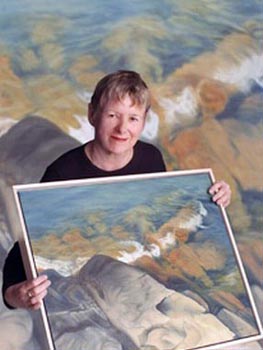 Joan was born in Guelph and raised in Windsor, Ontario. An academic year spent in Leeds, England began her interest in travel. Since then she has traveled on six continents and visited more than 60 countries, taking numerous photos along the way. She recently completed a trip around the globe.
Joan moved to Sudbury, Ontario in 1974 to teach secondary school after teaching two years in Africa.
Joan began her artistic endeavors in 2002 following an early retirement from education in June the previous year. She is a self-taught award winning artist, though she finds benefit in attending a variety of workshops in the area. At this time, she is pursuing a traditional approach to painting. Her preferred subjects are portraits and figures, and landscapes of both the North and of places on her recent travels. She works mainly in oil and watercolour, though she has also done work in pastel, acrylic and coloured pencil. She has paintings in private collections in Canada, the United States and Europe. She is a member of the Sudbury Art Club and the Sudbury Craft and Arts Foundation, and has recently received active status in the Federation of Canadian Artists.
Email to jclizard@vianet.ca